What do you get?
Each selected company will have access to plenty of benefits and deliverables like mentoring, a customized roadmap, market-sizing, local recruitment, on-the-ground expeditions, an extensive network, and much more.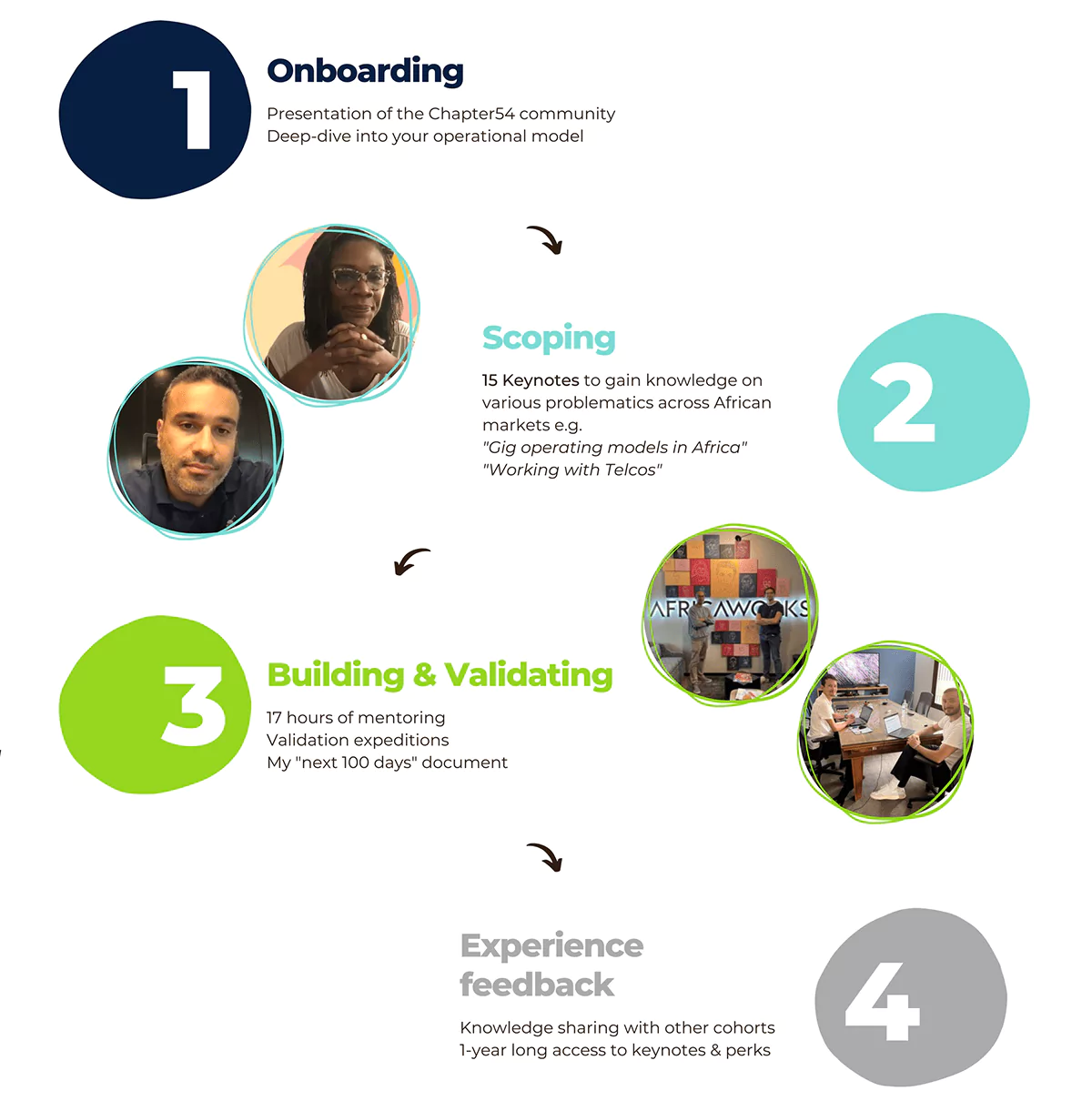 With Chapter54, you will also benefit from access to unique resources and expertise
People
We built an unprecedented community of more than 60 mentors, all genuine doers, coming from the most impactful organizations in Africa (African Tech, African corporates, Global Tech with African operations).
Ahmed Nader
Egypt Manager
Geidea Solutions
Alessandro Masaro
Chief Stategy Officer
Starzplay
Previous Companies
Cash Credit, Delta Partners
Ange Kacou Diagou
CEO
New Digital Africa
Previous Companies
Etisalat, Teyliom Group
Ann Gitao-Kinyua
Vivo Energy
Africa Head of Marketing
Previous Companies
Nation Media Group, Ayton, Young & Rubicam
Becky Tsadik
Director of Marketing
Gebeya
Previous Companies
MAD, GreenPath Food
Benjamin Bonnell
CEO
Expand in Africa
Previous Companies
APRIL, Ding.com, GreenTec Capital Partners
Benoit Fisse
President
7Points
Previous Companies
Gras Savoye International
Bernard Giry
Founder
Africa Panel
Previous Companies
BBDO, Catalina, Expand Technology
Bilal Benghomrani
Senior B2B Marketing Manager
Upskillist
Previous Companies
TATC (A Ringier A.G Company), Uprise Markets
Catherine Mudachi
VP Marketing
Copia Global
Previous Companies
Safaricom, Weetabix, Coca-Cola
Chams Diagne
Founder
Talent2Africa
Previous Companies
Viadeo
Charles Kinyanjui
Head New Ventures & Fintech Development
National Bank of Kenya
Previous Companies
Co-operative Bank of Kenya, Equity Bank
Frederico P. Silva
Founder
Appload and Talento
Previous Companies
Suretel, Multichoice, Rio Tinto, LG, UX
Gabriel Gab-Umoden
Group Marketing Head
ROAM Africa
Previous Companies
Konga Online Shopping, First Bank
Ghita Lahlou
Managing Director
BlueBirds
Previous Companies
Roland Berger, BCG, Saham
Guillaume Moyen
CFO
Dangote Cement
Previous Companies
Areva, Panafrican Group, OLA Energy
Ifunanya Chiegboka
Director of Global Business Development
Opay
Previous Companies
GTBank, Access Bank, Flutterwave, Interswitch
Ismael Belkhayat
Founder
Chari.ma
Other Companies
Votrechauffeur.ma, Sarouty.ma
Johanna Monthe
Partner
Epena Law
Previous Companies
Arendt & Medernach, Linklaters
Kamil-el-Ghali Senhaji
VP Emerging Markets and New Territories
Galileo Global Education
Previous Companies
JCDecaux
Kenza Berrada
Co-Founder
B-Part Consulting
Other Companies
Associate at Mooncard
Kolawole Osinowo
Chief Executive Officer - Nigeria
Baobab+
Previous Companies
Jumia Ghana, Microsoft
Kwehnui Tawah
Head of Platform Services and Special Projects
Wasoko
Previous Companies
Goldman Sachs, Jumia Kenya
Louisa Wandabwa
Director of Strategy
NCBA Group
Previous Companies
American Express
Marjorie Saint-Lot
Ivory Coast Country Manager
Uber
Previous Companies
Orange Côte d'Ivoire
Maxim Makarchuk
COO
Cars45 (Jiji Group)
Previous Companies
Genesis Tech, KPMG
Max Okeyo
Head of Strategy & Innovation
Nation Media Group
Previous Companies
Nation Media Group
Mesh Alloys
Founder & CEO
Sendy
Previous Companies
MTL Systems, Ondemand Mobile
Mikha'il Ernest
Chef Commercial Officer
Travelstart
Previous Companies
SafariNow, Hepstar Insurance Distribution, Atlantis Corporate Travel
Moulaye Taboure
Founder
ANKA (Formerly Afrikrea)
Previous Companies
Alstom, PWC
Moustapha Ndoye
CEO
Chargel
Previous Companies
Wave, HotelOnline
Mukudzei Borerwe
Chief Operations Officer
Asoko Insight
Previous Companies
EY, IntelliPayment, Advisory K
Munya Chiura
Head of Africa Business Development
MPOWER Financing
Previous Companies
Flutterwave, GLG, Flyware
N'Geur Sarr
Founder
Gatemeri
Previous Companies
Canal Overseas
Nicolas Andrieu
EVP MEA
Sigfox
Previous Companies
Expway, Canal Overseas, Thales
Nicolas Vonthron
CEO
Mama Money
Previous Companies
Orange, GSMA, Thunes
Olivier Poujade
Chairman
East Africa Gate
Previous Companies
Founding Partner at Miles Africa Consulting
Paul Langlois-Meurinne
Managing Director
Optimetriks
Previous Companies
Tigo Chad, Airtel Uganda
Quentin Rukingama
Managing Director
JBQ Africa
Previous Companies
I&P, Edmond de Rotschild, Bunge
Ralph Oluwole
Head of Growth
Helium Health
Previous Companies
Access Bank
Renaud Ganascia
Head of Strategic Partnerships & Alliances
Digital Virgo
Previous Companies
Lagardère Active, ZED Worldwide
Rolake Rosiji
Acting Managing Director
Careers in Africa
Previous Companies
Arla Foods, M-Kopa
Sami Louali
CEO
Jumia Pay
Previous Companies
Jumia Morocco, Rocket Internet, Roland Berger
Sarah Steingrüber
Global Health Consultant
Steingrüber Consulting
Previous Companies
IOM, UNFPA, GIZ, Transparency International
Serge-Eric Aguie
Marketing Director
Brassivoire
Previous Companies
The Coca-Cola company, Nestlé, Orange
Simon Engelbrecht
CEO
Skarp
Wangari Stewart
Chief Product Officer
Maisha Meds
Previous Companies
I&M Bank, Bankwest, CSIRO
Wayne Leverton
Head of Digital sales & operations
Woolworths
Previous Companies
Takealot, Kalahari
William Benthall
General Manager, Sub-Saharan Africa
Glovo
Previous Companies
Adam Smith International, Clinton Health Access Initiative, Sony Music
Yassir El Ismaili El Idrissi
Co-founder, Growth & Expansion
NOMU Group
Previous Companies
Careem, Tayara Group, Lamma, Appetito
Zunaid Parker
Head of Digital Media & Advertising
Vodacom
Previous Companies
24.com (a Naspers company), Millward Brown
Benjamin Auschitzky
Scaleup Success Manager

Previous Companies
ManoMano, Rocket Internet
Mirja Hitzemann
Scaleup Success Manager

Previous Companies
NBA, Spotify
Vincent Previ
Managing Director

Previously
Head of Business Development-Africa @Edenred
Partnered Ecosystems
Thanks to these partnerships, our scaleups have access to dully vetted soft-landing solutions in the most vibrant African cities
Perks of joining Chapter54
Our Scaleups have access to the perfect toolbox for successful market entry in Africa through our perk providers: market-surveys, recruitment firms, legal advisors